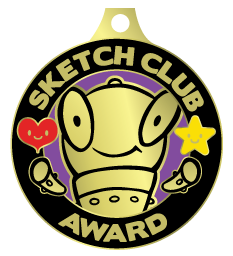 The end of this month marks the seventh birthday of SketchClub!! That also means it's time once again for us to look back on this past year and celebrate some of the best sketches and achievements of 2017!
Award suggestions
Starting November 5th we'll work together to come up with fun award categories for this year! Things like Most Inspiring Artist, Best Sketch Showcasing a Cactus, and so forth.
Nominations
On November 12th the 2017 Award Categories will be finalized and we'll begin nominating artists and sketches for each. You'll begin seeing nomination options as you view each artist and sketch while browsing SketchClub. You may find it helpful to go back through sketches you've given
's to over this past year.
To assist with nominations you can review the:
Top new artists by month
Top sketches by month
Top sketches by tag
Voting
The top nominees for each category will be announced November 25th and then voting begins! Everyone will be able to vote for their favorite in each category to determine the final winners.
Ceremony and prizes
Finally on December 9th the SketchClub 2017 Awards Ceremony will take place live at 1pm Pacific time! The winners will be announced and each will receive a special custom made SketchClub Award medal which will be mailed to them! There will also be surprise awards and prizes!!